Tuesday, 17 September, 2019 2:01:23 AM
email us: news@adderburynews.co.uk
Editor: Andy Green
the real news affecting our village
Tractor Run brings seasonal joy to Adderbury tonight
Published: 19/12/2018 9:30 AM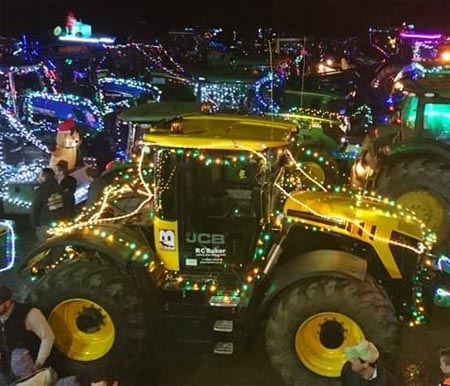 A procession of fairy lit tractors will make its way through Adderbury this evening (Wednesday December 19).
For the third year running local agricultural contracting business, RC Baker Ltd have organised the festive procession. A convoy of seasonally decorated tractors will head off from Spring Hill Farm in Barford St Michael and travel through South Newington, Milcombe, Bloxham, Milton, Adderbury, Deddington, Hempton and then back through Barford St Michael. As well as bringing some seasonal joy to local villages, the team behind the event will be raising money for the Katharine House Hospice.
What started off as a small event in 2016 with twenty-six tractors, almost doubled in size last year to over fifty festively decorated tractors. Members of the local farming community travel from far and wide to take part.
Jennie Steenkamp, Commercial Manager and Director for RC Baker told us, "There is already so much excitement surrounding this year's event on social media and we can't wait to see how many tractors we can gather together for the run this year to put on a display like no other, and raise some money for Katharine House Hospice".
Adderbury marks the half way point of the tractor run which sets off from Barford St Michael at 5pm and aims to complete the circular route by 6.30pm. In Adderbury the convoy will head along Berry Hill Road, up the Oxford Road past the Green, and then head along the Aynho Road to the business park. Here the convoy will turn around and then return along the Aynho and Oxford Roads before moving on to Deddington.
RC Baker are also inviting members of the public to go and see the fairy-lit fleet after the tour at Spring Hill Farm in Barford St Michael (OX15 0PL) from 6pm. Here drinks and a mince pies will be available.
Over the last two years the tractor run has raised over £5000 for Katharine House Hospice.
(c) Adderbury News 2019