Thursday, 27 June, 2019 7:25:34 AM
email us: news@adderburynews.co.uk
Editor: Andy Green
the real news affecting our village
David Griffiths retires from Adderbury Parish Council
Published: 06/12/2017 12:15 PM Updated: 07/12/2017 20:45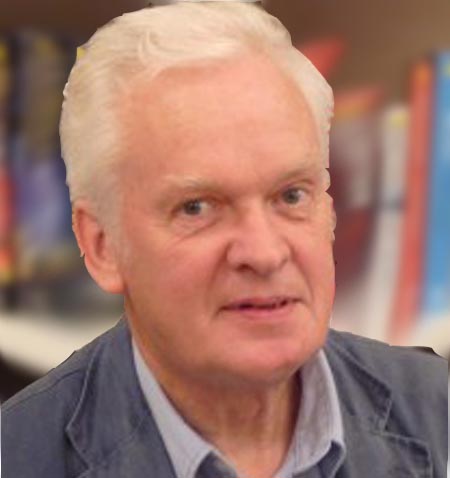 One of Adderbury's longest serving Parish Councillors has retired after nine years in the role. David Griffiths, 72, first stood for Adderbury Parish Council in 2008 having moved to Adderbury a decade earlier.
Following his initial appointment as a Councillor, Mr Griffiths had been re-elected on every occasion since. In the 2012 poll he received a larger number of votes than any other candidate. Mr Griffiths offered to take on the role of Vice Chairman back in 2008 and has remained in this position throughout his time with the Council.
During his tenure as a Parish Councillor Mr Griffiths has served on a number of Committees, volunteered and managed village events and raised funds for local charities. One of his proudest moments was arranging for the Blue Plaque to be installed at Le Halle Place in memory of Janet Blunt in September 2009. Mr Griffiths told Adderbury News, "It was suggested to me by some of the Morris Men. I had no idea how to go about it but learnt quickly. This was a first for Adderbury".
Much of Mr Griffith's voluntary work as a Councillor has resulted in a celebration of others who have made a difference in the village. Mr Griffiths organised for a tree to be planted at Adderbury Lakes in memory of Vera Wood, the founder of Contact and a lady who had been heavily involved in many aspects of community life in the village. He also suggested naming one of the new roads at the Aynho Road development in memory of the late John Harper, another stalwart of village life. Then last year it was Mr Griffiths who successfully nominated Mrs Val Scarff for the High Sheriff's Award for services to the community. Mr Griffiths told Adderbury News, "I believe it is important to remember those who give so much and make Adderbury the sort of village it is".
In recent year's Adderbury's annual Day Of Dance has benefited from Mr Griffith's determination to ensure the village enjoys a safe celebration. He told Adderbury News, "For years the Morris Dancers and their followers simply stood in the road and the traffic drove around them. Following this for two or three years of increased numbers attending, underage drinking, disorder and anti-social behaviour, the Police advised us to take some control. The Parish Council employed private security and I have liaised with the Police to improve things. I also arranged the closure of the High Street. In April 2011 it cost the Parish Council around £450 just to close the road. The last two years it has cost the Parish Council £78 each year, which is the cost of the Licence. I have managed to arrange free loan of signs and cones, the transportation of them and arrange volunteers to man the closure points. So a considerable saving to the ratepayers". However, Mr Griffiths does feel that not all Parish Councillors are as community minded, "Each year I have asked my fellow councillors to give an hour of their time on the road closure, some of them are willing to help, others don't! Such is their commitment to our village".
Mr Griffiths says he has always been very careful when making decisions to spend tax payers' money and has always striven to get value for money. However recently Mr Griffiths has been alarmed about some of the payments the Parish Council has had to make. Mr Griffiths notes one situation where a councillor made a comment to the Clerk at a public meeting for which the Councillor refused to apologise and resulted in the Clerk making a formal complaint. Mr Griffiths told us, "The Councillor involved eventually apologised but by that time the Parish Council had spent around £3,100 on consultants etc. to establish what we already knew. What a waste of public money."
The cost of defending the recent requests for judicial reviews also alarmed Mr Griffiths. "[I'm] pleased to say all these complaints have been rejected but it is stressful to be subjected to the ordeal when I knew I had done nothing wrong, but was not in a position to spend money defending myself. In the event it has cost the Parish Council £6,100 to defend our good name. Again, an example of wasting rate payers money which could have been avoided had the Parish Council been united".
Following Mr Griffith's retirement a vacancy has been created on Adderbury Parish Council. Mr Griffiths had this advice for anyone considering applying. "You need to have a love of the village, an interest in what is going on. Don't think you can change much – change takes time. You cannot please everyone - just hope to please most of the people most of the time. Remember you have to consider the views of everyone, not just those close to you, particularly in long-term decisions – think of who will be here in years to come. Be prepared to give up some of your time and put others interests before your own and finally have a sense of humour and smile".
Parish Council Chairman Diane Bratt told Adderbury News, "It was with regret that the Parish Council accepted David's decision to stand down. We wish to thank him for all his hard work and efforts on behalf of this community. David has been a Councillor for many years and has been Vice Chairman and Chairman of the Staffing Committee, as well as being on a number of other Parish Council working groups. He has always been willing to be involved in Parish and Community events and has selflessly worked for this community, often behind the scenes".
Mr Griffiths cites health reasons and spending more time with his wife Aline amongst the factors leading to his decision to retire. The announcement of his departure from Adderbury Parish Council was made at the November meeting.
(c) Adderbury News 2019