Wednesday, 22 May, 2019 10:39:37 PM
email us: news@adderburynews.co.uk
Editor: Andy Green
the real news affecting our village
Wexit is coming? Adderbury split rumours unfounded
Published: 29/03/2018 4:15 PM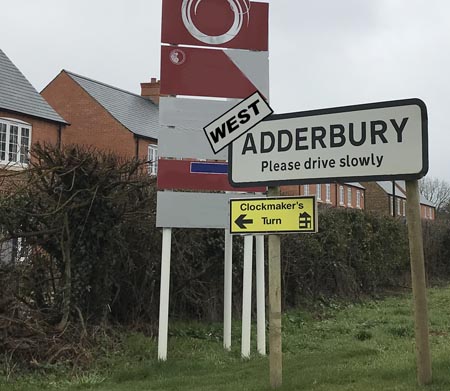 Rumours that Adderbury might be divided in two separate entities have been dismissed as completely unfounded. Initially the rumours caused concern for a small number of residents, but many have turned the rumours to frivolity and found comic angles to the gossip.
The formation of the West Adderbury Residents Association (WARA), and a mis-quoting of their aims seems to have been the cause of the speculation. A representative for WARA has spoken quickly to distance themselves, telling Adderbury News "Just to be very clear we are NOT forming this group to force a split from the existing Parish Council. There are around 30 – 40 residents of West Adderbury who have been discussing forming a Residents Association, we are interested to find out if our neighbours would like to support this initiative. The West Adderbury Residents Association (WARA) would be a voluntary organisation that would aim to represent the majority view of the community to ensure that West Adderbury remains a unique and special place to live".
It appears that news of the formation of the West Adderbury Residents Association was mis-interpreted by the author of his personal blog website. A number of posts linking to the blog entry were posted on Adderbury.org. Adderbury News understands Adderbury.org has now contacted the author of some of these posts for confirmation of his identity before allowing further posts.
Marianna Russo from Cherwell District Council confirmed the story was news to them. She told Adderbury News, "We are not aware of a spilt in Adderbury. There is a process to be followed for a parish to split, but we have not been contacted by anybody with a request to carry out a Community Governance Review, which is the means by which a Parish could split in two".
Writing on the Parish Council's social media account the Parish Clerk Theresa Goss said, "The Parish Council is aware of rumours relating to a split between West Adderbury and East Adderbury, but there are no plans for this. The PC has not received any formal notification or correspondence relating to this suggestion".
Until the reorganisation of local government in the early 1970s Adderbury did have separate Parish Councils for the then much smaller West Adderbury and East Adderbury. Writing on Facebook one poster noted the hilarity of that situation back then: "It was so funny it made it on the TV on Bernard Bradon. The secretary [for the Parish Council] was Ernie Lander and he was on both councils, so he wrote letters to himself. He was also the post man so posted them to himself collected them and delivered them to himself then replied!"
Others also noted the hilarity of the suggestion. On the same Facebook page Jonathan Bishop wrote, "If it happens I'm going to suggest to Keyte's [Close] residents push to become a republic". Philip Le Mare quipped, "Passport to be shown before entering the Bell" and Wendy Gardner added, "Whatever next? Pay to go from east to west....??!!". Sandra Shallis also joked, "They'll build a wall next! Actually, given funds, probably a fence".
Meanwhile the fledgling West Adderbury Residents Association simply want to find out how many people in their area might be interested in getting involved: "We hope to represent the interests of residents of the West Adderbury in matters that affect us all, such as planning, conservation, heritage, roads and the environment. We would liaise with local bodies, Parish, District and County Councils as well as the police with the aim of making our area a safer, friendlier and more vibrant community, whilst conserving its best features. The more members we have the better able we are to represent local opinion and circulate information.
"There are those in West Adderbury who have expressed the feeling that we have been poorly served by Adderbury Parish Council and feel that by building on the existing Adderbury Fields Residents Association formed on the development south of Milton Rd, a new Residents Association covering West Adderbury would achieve more influence and representation on planning including Neighbourhood Watch activities and other issues within the locality."
(c) Adderbury News 2019