Sunday, 18 August, 2019 7:47:02 AM
email us: news@adderburynews.co.uk
Editor: Andy Green
the real news affecting our village
YES Wins! 92% Vote In Favour Of Neighbourhood Plan
Published: 22/06/2018 12:30 AM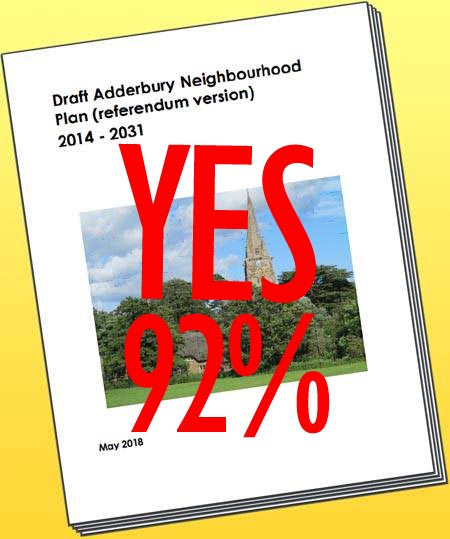 Adderbury's Neighbourhood Plan has passed it's final hurdle after a landslide 92% of those voting backed the plan. Cherwell District Council will now officially recognise Adderbury's Neighbourhood Plan as part of it's local plan.
651 people backed the Plan. Just 58 people voted against it, representing 8% of those who voted. The referendum result will be seen as a major success for the work of Sam Brown of Berry Hill Road and her team of villagers and Parish Councillors who have spent over three years pulling the Plan together.
For the Adderbury Neighbourhood Plan to be officially recognised it required more than 50% of those casting a vote to say "yes".
Turnout was slightly less than one-third of those entitled to vote at 29.8%.
The full result:
Do you want Cherwell District Council to use the Neighbourhood Plan for Adderbury to help it decide planning applications in the neighbourhood area?
Yes: 651
No: 58
(c) Adderbury News 2019