Wednesday, 20 February, 2019 3:39:48 PM
email us: news@adderburynews.co.uk
Editor: Andy Green
the real news affecting our village
It's panto week in Adderbury!
Published: 22/01/2017 9:00 AM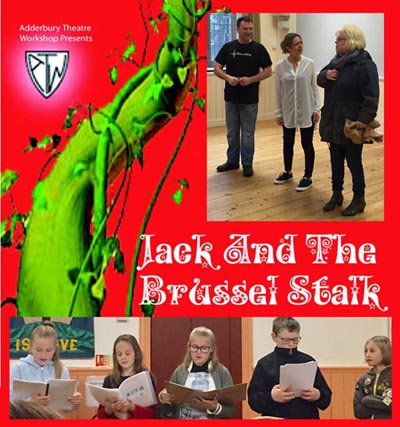 The cast of Adderbury theatre Workshop (ATW) are gearing up for their annual panto this week. "Jack and the Brussel Stalk" is a nod towards a post Brexit-Britain and a post-Christmas dinner January as script writer Gary Leonardi gets his pen into a wide repertoire of Brussel based jokes.
ATW's Alison Heath told Adderbury News, "At this time of year everyone could do with a little bit of a lift and an escape from the post-Christmas period and the dreary, cold weather. So what better excuse could you want for an evening of entertainment, music and laughs, guaranteed to banish the January blues and leave you with a big smile".
Panto regulars will be delighted to hear that show-writer Gary Leonardi will also be back on stage this year as Dame Ophelia - a role he has made very much his own over the years. Jack will be played by Becky Cheesman and (dare we use the description) "old" ATW favourites Wendy Gardner and Elaine Bryant are returning to the stage once again this year.
Alison told us that a number of new faces will be seen on stage. "We are very lucky to have had several new members join us over the past few years and boost the talented ranks of ATW regulars. Our pantomimes have become very much family affairs with no less than 4 families having several generations taking part this year. Keep an eye open for a couple of surprise appearances from some very funny characters with a twist and this year we have our very own pantomime cow for this first time!"
"The audience should also look out for some amazing performances from our junior members who are now an integral part of our pantomimes. Some of our previous junior members have this year stepped up to larger roles in the show and we are very proud of their performances and can't wait for people to see them."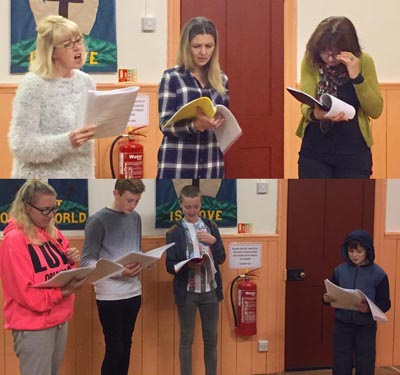 Amongst the huge number of laughs and hilarious performances Alison told us the cast always love the musical performances. "We are extremely lucky to have a fantastic Musical Director – Tom Shepstone. No matter what song is thrown at him he, and the band, never fail to bring great musicality to the performances and make us sound great."
More than 30 people are involved in the pantomime this year including cast and crew. Alison told us that the behinds the scenes support was much appreciated. "It would not be possible to put on our pantomimes without a dedicated Committee, who just make things happen and a great team who work tirelessly to put on a fantastic show. Our true 'behind the scenes' star is our wardrobe mistress – Gill Osborne who creates masterpieces and costumes out of a very limited budget. This year she has produced some fabulous costumes almost single-handed and we could not do our pantomimes without her."
Panto performance week is the culmination of a long period of preparation for ATW. Work on the panto often starts shortly after the previous year's curtain comes down. Writer Gary Leonardi will spend a few months letting his imagination run riot before the first draft is available in the summer. Director Jamie Cox works closely with Gary and not only offers creative input but according to Alison "censors some of Gary's more outrageous ideas"!
Tickets for Friday night and both the matinee and evening performance shows on Saturday have sold out but a few are still available for the performance this Thursday evening (26th January). They can be purchased from the Coach and Horses or by calling Karen Dwyer on 07729814007. All performances take place in Adderbury Institute.
(c) Adderbury News 2019