Wednesday, 20 February, 2019 4:25:21 PM
email us: news@adderburynews.co.uk
Editor: Andy Green
the real news affecting our village
Parish Council Election: Candidates Q&A
Published: 23/01/2017 9:00 AM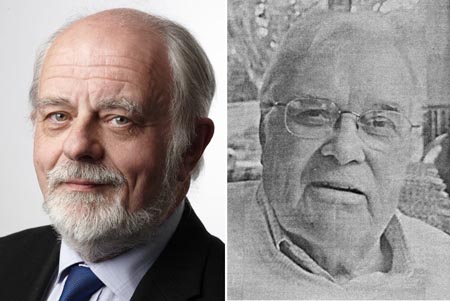 This Thursday villagers will decide who to elect onto the Parish Council following the resignation of David Bradley in November. Two local people are standing: Keith Mitchell CBE of the Aynho Road and Peter Burrows of Twyford Avenue.
Adderbury News sent a set of questions to both candidates so you could compare their answers and decide how to vote. Mr Mitchell's answers are printed in full below. Sadly (although we know he received our messages) Mr Burrows has chosen not to reply.
Questions to both candidates:
What made you decide to stand in the election this time? You did not stand at the last election in May 2016.
Mr Mitchell:Before the May 2016 elections, I was pressed to stand for the Parish Council by some residents but I decided against for two reasons. I thought 25 years as a member of local councils was enough and others should take their turn. I also had heavy involvements as a volunteer in three charities, one in Adderbury, one in Banbury and the third in London. From March this year, I end my involvement in the London charity, having fulfilled my six year term, so have more time to devote locally. When the parish council vacancy occurred towards the end of 2016, I was again urged to put my name forward by several villagers from all parts of Adderbury. I thought long and hard about this and I had heard that meetings had become difficult and confrontational. Those urging me to stand hoped I would bring a calmness to meetings founded on my long experience in public service. If elected, that is my hope too and to support councillors who are working for the wellbeing of the whole village.
Mr Burrows: No response.
What will your priorities be should you be elected as a Parish Councillor?
Mr Mitchell:To support harmonious working within the council and to take decisions based on good evidence and on promoting the well-being of the whole village community. We cannot prevent further housing development in the village. All of the main political parties at Westminster are committed to building much-needed new homes. I think the parish council needs to work hard to maintain the architectural quality of new building, to support access to affordable housing for local people and to remind Cherwell and the County Council of our infrastructure needs – schools, roads, health & social care, recreation and our library service. We also need to keep our village safe, clean and a fine place to live, work and shop. Growth brings its problems of litter, traffic and occasional poor behaviour and the parish council is best placed to deal with these problems.
Mr Burrows: No response.
What is your opinion on recent housing development in the village?
Mr Mitchell: I think Adderbury has been more fortunate than neighbouring villages like Bloxham and Bodicote in that the quality of new housing has been pretty good and in keeping with our fine architecture. I know people worry about the quantity of new housing being built but anyone who tells you they will stop Adderbury having any more is not being truthful. I think our role as a Parish Council is to work hard to maintain the quality of what is built and to ensure, as far as we can, that the village infrastructure can sustain it.
Mr Burrows: No response.
If you are aware of the progress of the Neighbourhood Plan are you happy with the direction this is heading or have you concerns?
Mr Mitchell:This was never going to be an easy task and I think the Neighbourhood Plan process has been democratically handled and has made good progress. The issue of recreational provision has always been controversial but I think the Plan is moving in the right direction. The Plan has been approved by the Parish Council and villagers have until 30 January 2017 to make their comments. It will then be vetted by an independent inspector and will then be put to the village for approval in a referendum. After all of this hard work, I hope the village will approve it strongly because it will support our case for maintaining the high quality of Adderbury village.
Mr Burrows: No response.
With regards any political parties or organisations you belong to, how do you address any concerns that villagers may have over conflicts of interest?
Mr Mitchell:Parish Councils are non-political and I am standing as myself and not as a member of a political party. I have been a member of the Conservative Party all of my adult life and have been active in promoting it for most of that time. However, at 70 years of age, I now regard myself as "semi-detached". I pay the minimum subscription of £25 per year and that is all. Tony Baldry's standing down as our MP marked my own standing down from activism in local politics. I feel free to speak my mind and to criticise any political party where I think they have got their policies wrong.
Mr Burrows: No response.
Turnout for local elections is historically low so what is your message to the electorate?
Mr Mitchell:There has been some justified concern that a small number of individuals called for an election to fill this vacancy at a cost to the public purse – and that is to all of us – of some £3,000. Interestingly, none of the people who demanded a formal election have put themselves forward for election! However, electors in Adderbury have the right to choose between two candidates at the polling station on 26 January and I hope they will defy the doom merchants who predict a low turnout and turn out in large numbers to make their democratic choice.
Mr Burrows: No response.
The by-election will take place at the Methodist Hall this Thursday (January 26th) with the poll underway from 7am and closing at 10pm.
(c) Adderbury News 2019