Sunday, 24 March, 2019 7:54:52 PM
email us: news@adderburynews.co.uk
Editor: Andy Green
the real news affecting our village
Adderbury Park retain the Oxfordshire Charity Cup
Published: 07/05/2017 1:30 PM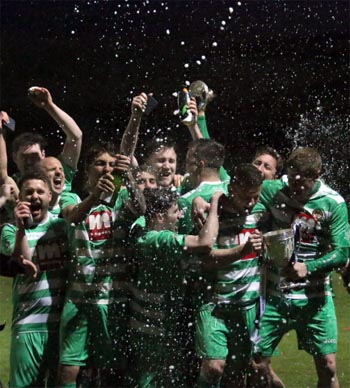 Adderbury's footballers are celebrating again after Adderbury Park beat Freeland in the final of the Oxfordshire Charity Cup on April 25th. Adderbury won this same trophy last season.
The game, played at Ardley, was evenly balanced and an uneventful first half was reached goalless.
The second half saw AP begin to put Freeland under pressure and create chances. Josh Reilly was played through on goal and his effort was brilliantly saved by Freeland's goalkeeper Lonsdale, but the ball landed to Mitchell Clynes who made no mistake firing home into the corner of the net to put Adderbury one up.
Adderbury dominated the next section of the game, but in the last minute it was Freeland who broke clear only failing to score due to their own mistakes.
Adderbury went into this game having played a large number of fixtures in a short space of time and so the celebrations that flowed in Adderbury's Coach and Horses were well deserved.
(c) Adderbury News 2019