Sunday, 10 December, 2023 1:37:52 AM
email us: news@adderburynews.co.uk
Editor: Andy Green
the real news affecting our village
Adderbury Lakes closed after large number of dead fish found
Published: 08/07/2019 2:00 PM Updated: 11/07/2019 17:00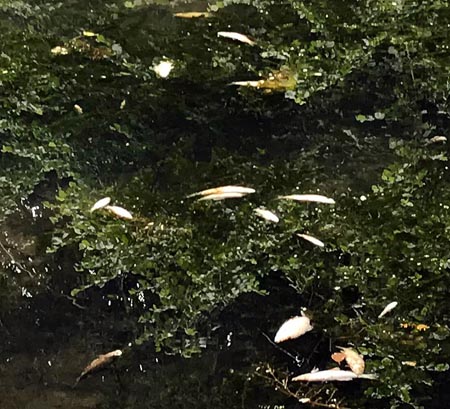 Visitors to Adderbury Lakes were alarmed to see a large number of dead fish floating on the surface of the water over the weekend (6/7 July). The problem, which was not evident before the weekend, resulted in a number of calls to members of the Lakes Management Committee.
Whilst the problem is investigated the Lakes have been closed to the public as a precautionary measure.
The dead fish appeared to be mainly from the roach family, whilst most other species seemed mainly unaffected. On Monday lunchtime a small team of volunteers had begun the process of removing the dead fish from the water.
Rick Atkinson is one of the volunteers at the site and went to help deal with the problem upon returning from a weekend away. Mr Atkinson told Adderbury News that the Environment Agency had visited the site on Monday morning. They confirmed there was a problem but later reported that there was no obvious reason and confirmed the oxygen levels in the water were OK.
Mr Atkinson said, "He saw no obvious cause of the dead fish and reached the probable conclusion that it was due to a natural toxin caused by low water levels, hot weather and the build up of algae.
"The fish affected are mainly the Roach with half a dozen or so Bream; the other species in the lake (Tench, Perch and Crucian Carp) appear not to have not been affected. Also, the lower lake appears not to have been affected by the toxin".
Mr Atkinson explained that stocks of tench and carp had been replenished in the lake last November. However the affected roach came from stock which had been in the lake for a couple of years.
The Adderbury Lakes site was originally an ornamental water garden for Adderbury House, created in the early to mid-nineteenth century. When Adderbury House was requisitioned by the War Office in 1939 the lakes felt into neglect. In 1983 a number of parties came together to bring the area back to life as a nature reserve, which is managed and cared for by the Adderbury Parish Council and volunteers.
Below - two of the affected fish, a roach and a bream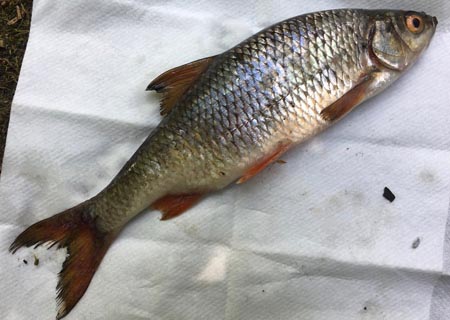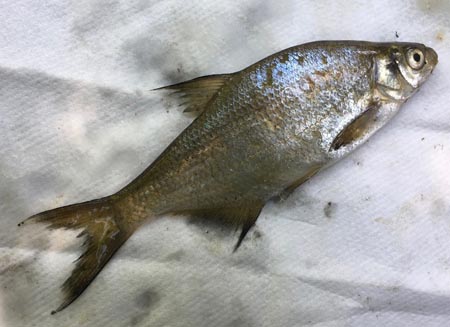 (c) Adderbury News 2023