Friday, 22 October, 2021 1:07:59 AM
email us: news@adderburynews.co.uk
Editor: Andy Green
the real news affecting our village
Judicial Review of Adderbury Parish Council rejected as "totally without merit"
Published: 11/09/2017 5:30 PM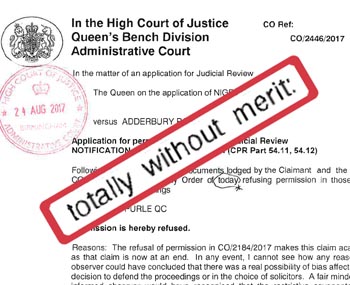 Two requests for judicial reviews into the actions of a number of Adderbury Parish Councillors have been rejected at Birmingham High Court. After considering the evidence His Honour Judge Charles Purle QC dismissed both applications stating they were "totally without merit". However, no order was made with regards legal costs and so it appears that Adderbury' residents will be left to pay the Council's legal costs of £6,100 through the Council Tax precept.
The first Judicial Review request related to the land on the Milton Road, designated for sports pitches and a community facility. It questioned the process and wording used when the restricted covenant on the land gifted to the village was worded in official documents as the land was passed over from the donor to Adderbury Parish Council, through Cherwell District Council.
In relation to this request Judge Purle stated, "not only is the claim not arguable, but there is no recognisable public law claim at all and no act of the Defendant [Adderbury Parish Council] capable of being timeously impugned".
The second judicial review request challenged Adderbury Parish Council's decision to contest the first judicial review request. It claimed that six of the councillors named in the first request should have declared an interest and not taken part in the decision to defend the action.
Judge Purle dismissed this request stating, "[The] case is considered to be totally without merit: as well as now being wholly academic, the claim is in my judgment without any foundation at all".
Adderbury Parish Council will meet tomorrow night (11th September 2017) and discuss Judge Purle's rejection of the judicial review requests and the financial impact of the legal costs on the Council. Writing on his blog Councillor Keith Mitchell said, "There is something wrong with our legal system if a JR [judicial review] application can be dismissed so comprehensively but the body complained about has to bear the costs (more than £5,000) without recourse".
(c) Adderbury News 2021